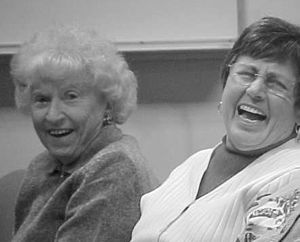 For more than two decades, Mark Binder has been telling stories to multicultural audiences of every generation. 
"Our group of seniors really enjoyed Mark's stories and chatter. His skills on the harmonica were particularly enjoyable and provided a nice mix of talents. He certainly spread the joy of his ebullient personality with all of his listeners. You certainly brightened the day of all the ladies in attendance with your clever funny stories and unexpected skill on the harmonica!" – Marshfield Senior Center 
His programs blend stories, music, reading, and are adjusted and appropriate for: Senior Centers •  Community Centers • Churches • Synagogues • Mosques •  and more. 
Programs / Sets
It Ate My Sister… (and other things that I wish happened to my family) - outrageous tall tales that are just a lot of fun.
Izzy Abrahmson's The Village Life - warm stories from a fictional Jewish village, and the stories behind the stories. Note: You don't need to be Jewish!
Stories for Peace - How can we resolve conflict? Mark combines his training as a martial artist with his decades of storytelling. (Not a physical demonstration!)
Cinderella Spinderella - tales of identity and joy.
Tall Tales and Lies - Outrageous stories, myths and fabulations for both adults and young people
A Holiday Present - Multicultural holiday program. Available November through December
Spooky Campfire Stories - perfect for Halloween, or any day.
Contact Beth Hellman (beth@transmitjoy.com) 
or call us at +1.401.272.8707 
to discuss programs, dates and possibilities.