Cinderella Spinderella
One of my favorite stories in a variety of forms… 
Below, you'll learn some background, have a listen on Spotify, watch a video excerpt see the teachers guides (and coloring book), and links to the ebook and printed edition.
The Story Behind the Story
My second summer as a storyteller, I had two important gigs: ReadBoston, which was Mayor Menino's literacy program, and Shake-A-Leg, now called Sail to Prevail, a summer camp in Newport that taught youngsters with disabilities how to sail boats.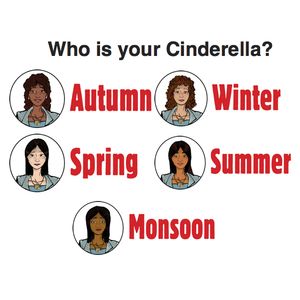 Cinderella Spinderella turned out to be the perfect tale. As the Fairy Godmother says, "You can't dance in glass slippers." Even better, the urban setting for the piece  worked beautifully in Boston for young people ages 5 to 15. (Adults like the story too, but shhh.) 
When we put the book into production, we initially designed it as a "Diverse" ebook. Readers can pick what Cinderella and the Prince look like. The illustrator, Steve Mardo, did more than 300 drawings! The ebook actually won five international awards. 
When the book was released in print, it was impractical to have the 25 variations, so we did five. Ultimately, though, the "Autumn" version has been the top seller.
Buy Cinderella Spinderella in print, Audiobook or ebook
Please take a moment to get a copy. It's not very expensive, and I know you'll enjoy it.