Back in the age of paper, when I was a kid, I used to love going into the bookstore and browsing. Shelf after shelf of possibilities. In those days there weren't so many different sections. There was nonfiction, fiction, mystery and sometimes Science Fiction.
While some bookstores still survive, most books in this country are sold on Amazon. While the monster company started with books, it really doesn't care about books. They'll be happy to sell you anything. Looking for a book? Buy a pair of shoes.
Plus, for craft publishers and authors like myself, Amazon actually prints the books in their warehouses, so not only do they make the money off the sale, but they also make money as a printer and distributor.
Finally, the experience of "shopping" for a book on Amazon is brutally unattractive. In an old school bookstore, you can glance at a dozen books in a moment. You can take in an entire shelf of books in a minute or two. You can look at covers, find authors, and move on. Amazon is all about click. Click. Click. Click…
So, while many of my books are available for sale on Amazon (See: https://www.amazon.com/Mark-Binder/e/B001JS3S9M/ref=dp_byline_cont_pop_book_1 ) I take a perverse pleasure in NOT offering everything on their website. 
The look of delight on the faces of shoppers at book signings is palpable.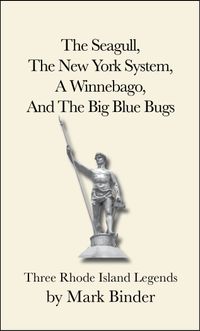 Which is why I'm NOT giving Amazon my new book, THE SEAGULL, THE NEW YORK SYSTEM, A WINNEBAGO, AND THE BIG BLUE BUGS.