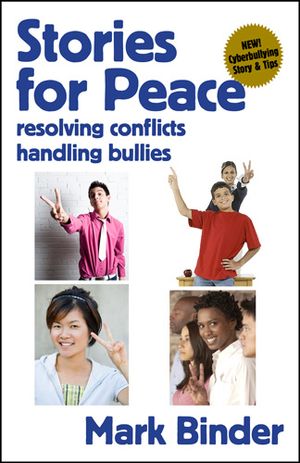 How do we resolve conflicts? 
Can we create peace?
With a blend of stories and demonstrations, Mark combines decades of martial arts experience with the gentle art of storytelling to raise issues and offer solutions.
The STORIES FOR PEACE workshop is an engaging program for students, families and adults. It addresses issues of conflict and resolution with humor and exercises.
Mark Binder holds a third degree black belt in Aikido, the martial art for peace, and has taught and practiced for more than 20 years.
—Appropriate for all ages. Does include non-graphic mentions of violence. 
Binder asks and answers the questions, "Can problems be solved peacefully?", "How can we handle bullies?", "What are the consequences of violence?" 
In addition to offering possibilities for handling bullies, he raises issues and presents options around negotiating, peace through laughter, the power of peace, and peace of mind. 
A recommendation…
A story from the program
For Booking and Information 
Contact: Beth Hellman 
beth@transmitjoy.com 
+1.401.272.8707