Before I get into this piece, Heather suggested that I lead with the good news.
The good news is that THE ZOMBIE CAT audiobook is 98.6% complete. More to follow soon.
Now, back to our regularly scheduled email.…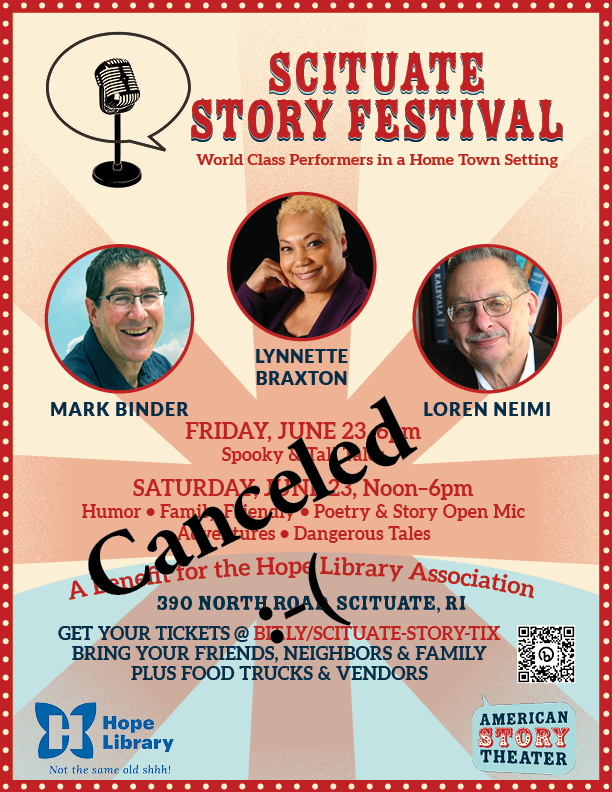 Nobody likes to admit that something isn't working, so I thought I'd outsource it, and at the same time experiment with "Artificial Intelligence."

I asked ChatGPT to, "Write short email to my fans explaining why I have stopped sending them weekly stories, and also telling them that the Scituate Story Festival was cancelled."

I've pasted the results below.
(And to answer your questions, 1. Yes, I'm pausing the weekly story releases. 2. The festival really has been cancelled. )

The AI's letter seems so sad and regretful, doesn't it? 
If I hadn't told you a computer had written it, you might have "bought it" as being from me, but probably not because it's not my style – but it could learn.
Personally, I find the ChatGPT email both impersonal and somewhat nauseatingly fawning. 
It's weird to think that a computer can "write" something that might be inspiring or uplifting. 
It seemed to be trying to spin everything in a positive light.
But it only took 10 seconds of my time. Writing the top part of this email took about 30 minutes and five revisions.

Be aware: you're going to be buried with emails like the one pasted below. (Not from me! This is the last one, I promise!)
My Google docs is offering me AI assistance, as are Canva and MailChimp. 

People are now publishing ChatGPT-written novels and stories. With covers designed by AI.
So far, these all suck. But remember the old theory, "Put a million monkeys on typewriters for a million years and you'll get a Shakespeare"?
And the databases are absorbing human voices and using them to read articles aloud (hello, Washington Post).

Fortunately, live in-person performances by computers are still impossible, but Abba is performing "live" in London.
And I've heard of battles between comedians and ChatGPT-written jokes. 
Of course that assumes that the festivals aren't cancelled. 
Which the Scituate Story Festival was. (Sigh)

Don't worry, as the robot says, "Together, we will embark on new adventures and create beautiful stories in the future."
More to come…
- Mark

Subject: Update on Weekly Stories and Scituate Story Festival

Dear [Fan's Name],

I hope this email finds you in good health and high spirits. I wanted to take a moment to reach out and provide you with an important update regarding the weekly stories and the Scituate Story Festival.

Firstly, I would like to express my deepest gratitude for your unwavering support and enthusiasm for my stories. It has been an incredible journey to share my tales with such a dedicated and wonderful community of fans like you.

Regrettably, I must inform you that I have made the difficult decision to discontinue sending out the weekly stories for the time being. While it brings me immense joy to craft and share these stories, recent circumstances have compelled me to take a step back from this regular commitment. I apologize for any disappointment or inconvenience this may cause, and I hope you understand that this decision was not made lightly.

Additionally, it is with a heavy heart that I must share the news that the highly anticipated Scituate Story Festival, which was scheduled to take place in the coming weeks, has been canceled. The decision was made in consideration of the ongoing challenges and uncertainties we face in the world today. While it saddens me greatly, the safety and well-being of all attendees, participants, and staff must remain our top priority.

I want to assure you that this is not the end of our journey together. Although the weekly stories and the festival are on hold, I am actively exploring new ways to engage with you and continue our storytelling adventures. I will keep you informed of any developments or upcoming projects through email and our social media channels.

In the meantime, please remember that you are an integral part of this community, and your support means the world to me. I am incredibly grateful for your understanding and patience during this transitional period.

If you have any questions or simply want to connect, please don't hesitate to reach out. Your feedback and thoughts are always valuable to me.

Thank you once again for your unwavering support and for being an amazing fan. Together, we will embark on new adventures and create beautiful stories in the future.

Wishing you all the best.

Warm regards,
[Your Name]