Virtual (and live) programs*
lean in, listen , laugh and learn
for grades K through 12
Mark's author virtual and live visits inspire reading and writing  
His storytelling "concerts" that take listeners on adventures 
Writing workshops that teach creativity (email for details)
NOTE FOR 2020: We expect most programs to be virtual. If you're interested in a "live" event, do contact us!
Since 2000, hundreds of thousands of students around the world have laughed and learned from his programs and workshops, which inspire the imagination and encourage reading, writing and powerful communication.  Teachers are often amazed at how attentive and engaged students are during presentations, and how much they retain afterwards.  His books and stories connect with all ages from elementary to middle and high school.

Writing workshops that teach creativity, story structure and editing (upper grades only) - NOTE: For 2020, we're not sure how these will work. Please contact us.
Virtual Author Visit - Read A Little Every Day (K-2)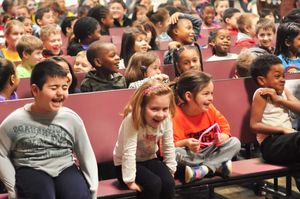 In the virtual setting, Mark Binder talks with students about writing, reading and tells them stories. For elementary ages, he's written books and audios that include THE BED TIME STORY BOOK; KINGS WOLVES PRINCESSES AND LIONS; and CINDERELLA SPINDERELLA, and the Parents' Choice Gold audiobook TRANSMIT JOY. With a blend of reading, storytelling and songs, and question/answer, he engages the youngest school audiences and transmits the joy of reading. Mark astonishes young listeners, shares nutritious and delightful stories, and then answers questions! Teachers are welcome to request particular stories or themes. Mark has a repertoire of more than 150 tales. Stories for Peace, Holiday Stories, Spooky Stories and more.
Virtual Author Visit -  Astonishing Writing (3-5 6-8 9-12)
Mark Binder is an author/storyteller with decades of experience in schools -- and via video. For Middle grade and Middle school, he's written IT ATE MY SISTER and THE ZOMBIE CAT For High School, he's the Audie-Award Nominated author of LOKI RAGNAROK, and the forthcoming, STRAIGHT OUT OF GROSTON This is an excellent way for students to learn from, hear from, ask questions, and speak with an author. As an award-winning author and storyteller, Mark is able to use technology to connect with readers and listeners (and watchers). Mark works with the teacher in advance to prep questions. The video conference includes reading, storytelling, and, most importantly, Q&A. Students can ask questions and lead the discussion. Teachers can request specific focuses (i.e. character development or story structure.) We've tested this program out and it's a real pleaser for teachers and students. Students especially feel connected .
*Video options include: Zoom, Google Hangouts, Skype, Facebook Live, Instagram Live… If you've got one we don't, we'll figure it out.
Writing Workshops and Residencies (4-5 6-8 9-12)
Mark Binder's Writing Residency teaches creativity, story structure and editing. Write it, then Right it. Students learn to unlock their imagination, shape stories, build characters and narratives, and editing. The 1-5 week residency may be extended to include print or digital publishing. (For grades 4-12 and teacher continuing education.
Write it, then Right it is Mark's philosophy. 
Week 1 begins with an assembly. Students are introduced to Mark Binder, his work and his methods. Using a blend of reading, question and answer, storytelling and some beginning mini-lessons, Mark creates an environment of excitement and possibility. Work then shifts to individual (or group) classrooms, where Mark delves deeper into story structure and creativity, then sparks students and gets them writing. Teachers are encouraged to participate as students while models coaching to keep writers on task. 
Week 2 is about editing. It begins (again) with an assembly. This one focuses on changes and improvements in work. In classrooms, Mark uses overhead projection to work with students and "right it."  
Week 3 is about continuing the editing process. (Assembly is optional). Mark also works with teachers on their questions.  
Week 4 (optional) is about publication. (Prior to this week, in consultation with the school and teachers a pathway to publication -- digital or print -- has been developed. Mark works with teachers and students on the logistics of getting a work finished and into the world. 
Week 5 (optional) is a public presentation of work by students.
Click here for Teacher's Guides
For Booking and Information 
Contact: Beth Hellman 
beth@transmitjoy.com 
+1.401.272.8707